PROFILE

NATASHA DIGGS

Natasha Diggs aka "The Hardest Diggin' Woman In Showbiz"
is a DJ, treasure hunter, free spirit, and Mobile Mondays NYC 45 slanger.
Posted by
September 9 2013 / 02:18:23
Mobile Mondays! Undercover Brother B-day Bash Ft. Biz Markie, Super Lover Cee & Casanova Rud, BreakBeat Lou & More!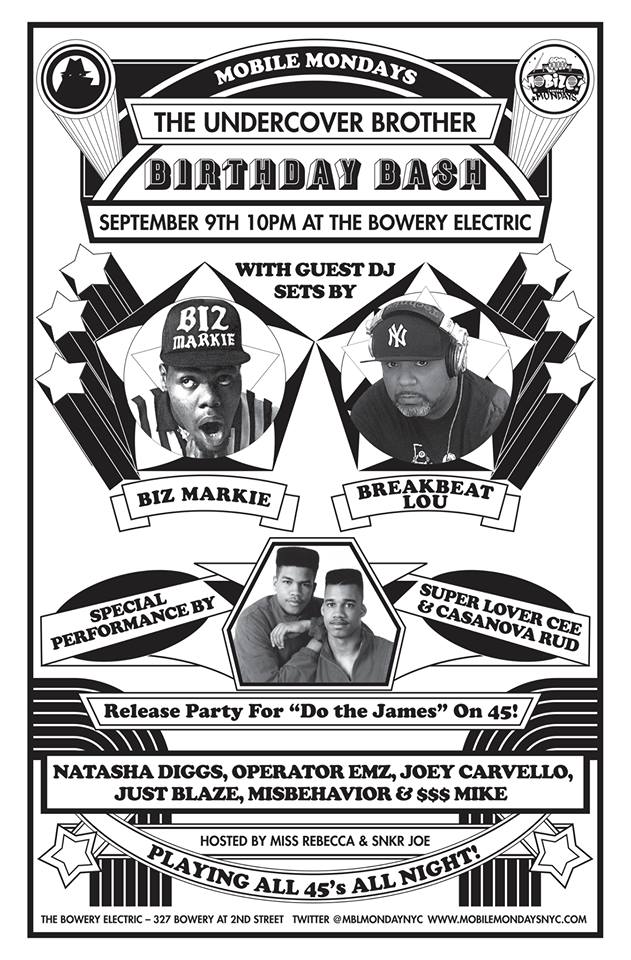 The Undercover Brother (of the Nubian Crackers) B-Day Bash at Mobile Mondays! with special all 45 DJ sets by Biz Markie and Break Beat Lou. Special performance by Super Lover Cee & Casanova Rud.
Official Do The James 45 release party! Free Entry!
RSVP Here: https://www.facebook.com/events/572315109470699/
Posted by
September 2 2013 / 01:13:50
Don Blackman Tribute 9/2!!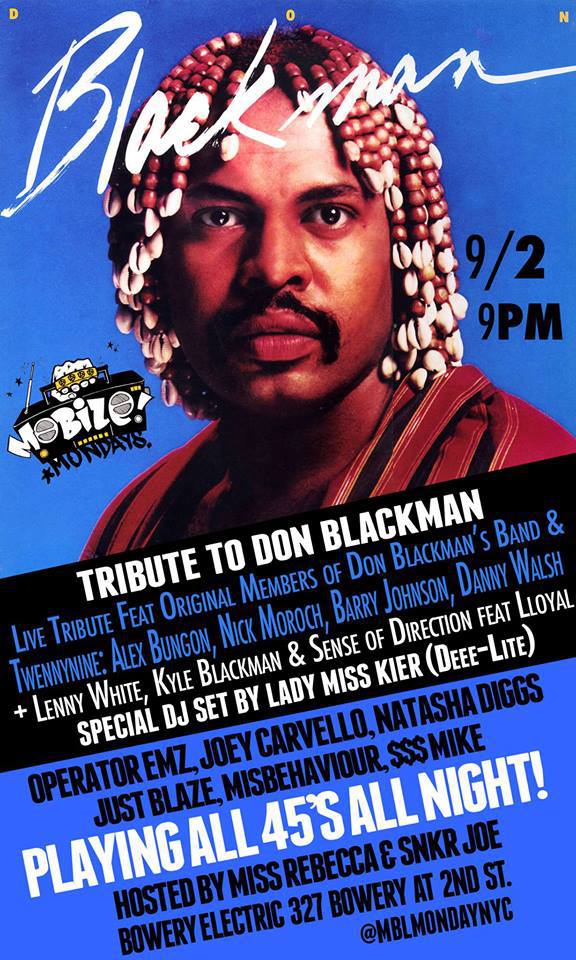 Posted by
August 9 2013 / 03:05:18
DJ Muro Live @ Mobile Mondays!
We were lucky to have Dj Muro come through and drop a 45 set a few weeks back at Mobile Mondays!
Muro always rocks it! Check out the live recording here..
Posted by
August 9 2013 / 02:55:59
George Duke RIP <3
Posted by
July 22 2013 / 12:01:15
Monday 7/22 BEATMINERZ @ Mobile Mondays!
Posted by
May 6 2013 / 01:49:07
Mobile Mondays! 45 Kings.. & Queens yo!!!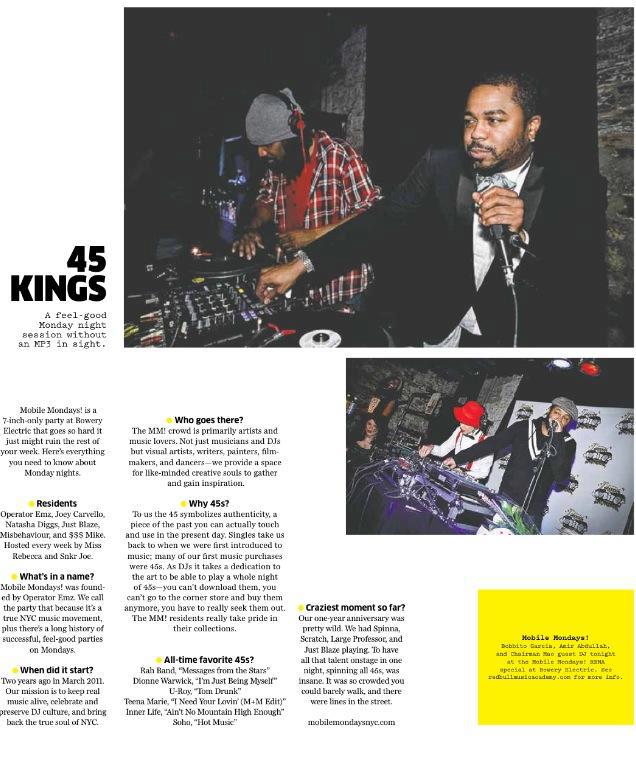 Posted by
April 20 2013 / 08:58:02
4/22 Rich Medina @ Mobile Mondays!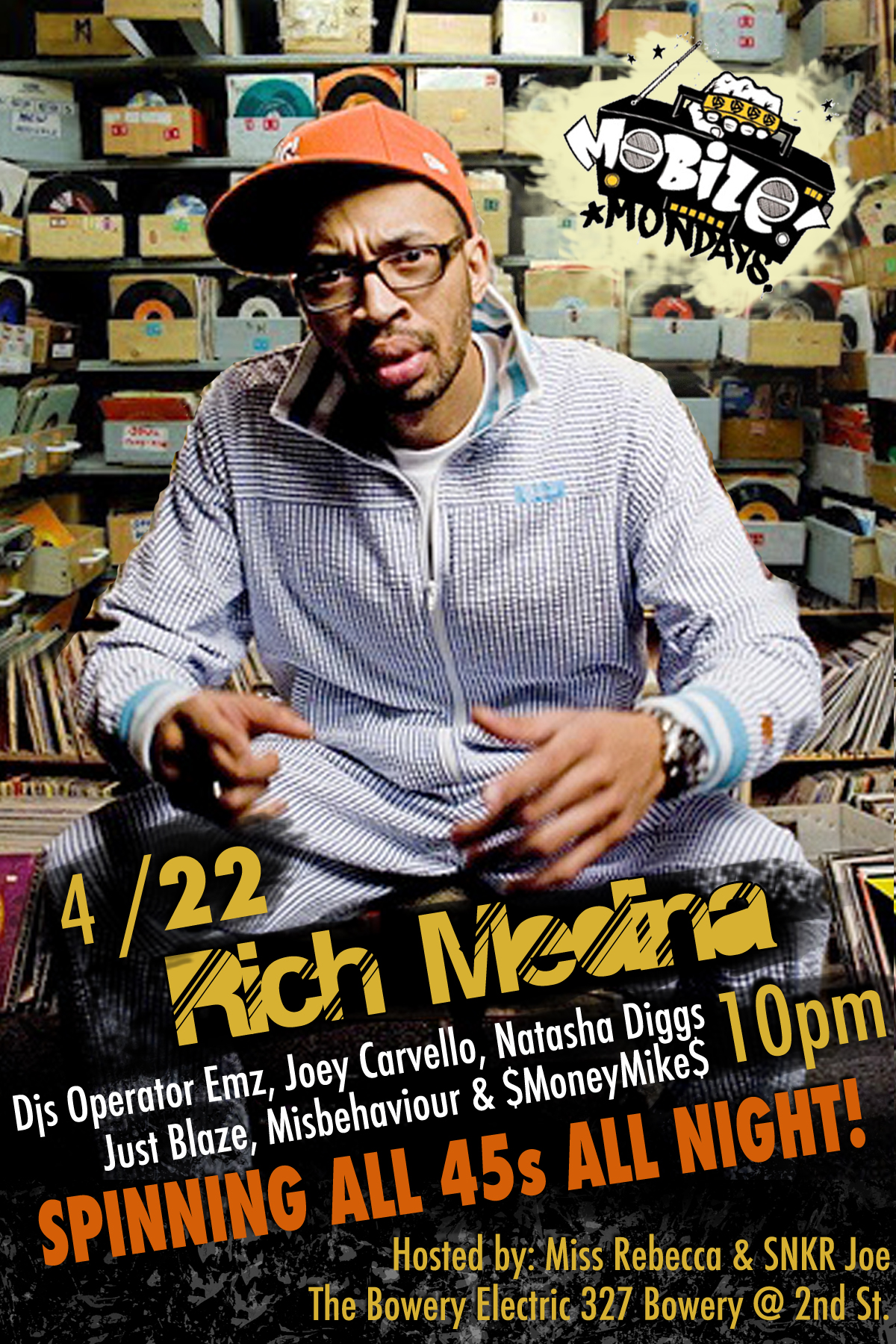 Posted by
April 16 2013 / 05:40:28
Tonight Mobile Mondays broadcasts LIVE on Radiolily.com!
Mobile Mondays celebrates the birthday of our own resident Dj Misbehaviour. She's invited special guest selector Tony Screw aka Downbeat the Ruler who will be throwing down the heavy vibes. He's  been rocking since 1972 and is bringin his all 45 set to the Bowery Electric tonight! The entire Mobile Mondays gang will also be in the mix.. Operator Emz, Joey Carvello,  Just Blaze, Misbehaviour, $MoneyMike$ and myself.. Word on the street there will be a very special guest performer in the building tonight as well!  Hint.. he's a Native Tongue who's got some crazy dance moves ;) Tune in worldwide from 11pm-4am EST to catch all the Mobile Mondays action broadcast Live for the first time on www.radiolily.com
Posted by
April 12 2013 / 12:28:08
RIP Don Blackman <3
A true genius and the topic of many a late night discussion on the best things to ever come out of that early 80s era.. alongside cats like Tom Browne, Bernard Wright, Lenny White, Marcus Miller and Weldon Irvine. Mr. Blackman was my absolute dream guest to have come play a live set at Mobile Mondays and Don was slated to make an appearance this Spring before he got sick. What a beautiful legacy of music he has left behind though.. one that has been in almost constant rotation for me in its various manifestations since I first got hip..
peaceful transitions, gratitude for all the gems and love to his fam around the world...
Posted by
March 23 2013 / 02:20:44
3/25 Mobile Mondays! w/ Guest Hosts Jean Grae & Pharoahe Monch & Djs Sucio Smash & Mr. Len